Select Choice
Term Insurance Series
Coverage that's there when you need it
Term Life insurance protects your loved ones by helping them meet your financial commitments, such as mortgage payments or college educations, in the event of your premature death. Tailor coverage to fit your goals and budget and worry less about future financial what-ifs. Coverage up to $5 million.
Select Choice Term: Choose the low-cost, high-face-value coverage you need from 10-, 15-, 20-, 30- and 35-year term options. Your premiums stay the same throughout the entire term, making budget planning simple. Plus, you can convert all or part of your policy to permanent insurance at any point. After your level term period ends, your coverage becomes annually renewable with rates that will increase annually.

Select Choice Annual Renewable Term: Choose this one-year policy that can be renewed annually and is convertible to permanent whole life insurance at any point up to age 70. Premiums are structured to be lower at the start and gradually increase as the member's age and earning potential increases. Members can elect to keep premiums fixed by reducing the coverage each year.

Select Choice Youth Term Life: Choose valuable protection for eligible children and grandchildren, up through age 17. Our annually renewable policy gives you the option to insure eligible children–and guarantee their future insurability. Coverage can remain in force until age 95 as long as premiums are paid when due. Plus, it is guaranteed to be convertible to whole life benefits at any time.
Expand your benefits
Choose from a range of optional riders for an additional cost
Waiver of Premium
If the Payor becomes totally and permanently disabled, premium payments are waived, and your policy remains in force under this Rider until its expiry date. (Not available on Annual Renewal Term.)
Accidental Death Benefit Rider
If your death is the result of an accident, your beneficiaries will receive an additional benefit.
Terminal, Critical and Chronic Illness Riders
Known as living benefits, these riders each enable you to tap into a portion of your death benefit to help cover the costs of treatment or care. (Not available on Annual Renewal Term.)
Children's Term Rider
Adding term coverage insures all eligible children on one rider, including future eligible children, natural or adopted. (Not available on Annual Renewal Term.)
Coverage can remain in force until age 95 as long as premiums are paid when due. Personal health history and underwriting guidelines will determine rate. Question responses on the application are used to determine coverage eligibility. Policy and features are subject to approval and may not be available in all states. Please see policy and rider coverage for complete details. GBU and its agents do not provide legal financial or tax advice. Please consult with a legal or tax professional prior to the purchase of any contract. Contract Form Series: ICC20-ART, FL20-ART.2, ICC20-ST, FL20-ST.2.
We help deliver stability in an uncertain world
Throughout our 131-year history of navigating challenging events and volatile markets, GBU Life has fulfilled countless commitments from added financial protection for young families through increased security for retirees, and every dream in between.
With a culture rooted in deliberate risk management, we strive to deliver competitive rates and share favorable results with our members.
Member policies are backed by GBU Life's consistently growing asset portfolio of $4 billion.

Our record $288 million surplus, the amount we hold over and above our member benefit reserves, helps to provide even more security.

Standing behind every $100 of GBU Life policy obligations is $107.40 in assets. This solvency ratio of 107.4% percent means GBU Life can more than meet our commitments.
Asset portfolio, surplus and solvency ratio information is as of 12/31/22.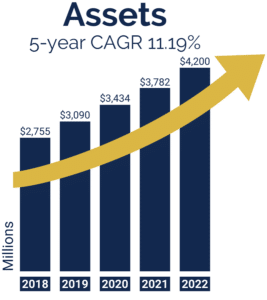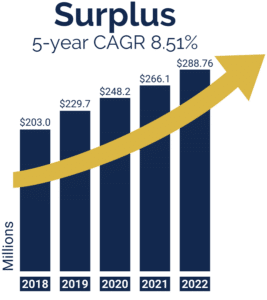 CAGR is Compound Annual Growth Rate of surplus or assets, as applicable, and was calculated for the period 12/31/18 through 12/31/22. Assets and surplus for each year is as of 12/31/22.
Insurance that makes a difference
At GBU Life, we specialize in life insurance and annuity products to help protect families and anchor retirements.
We do things differently at GBU as we don't have shareholders. We don't have clients. Instead, we have members—members who come to GBU Life to add security to their futures, build their legacies and impact the communities around them.
From the start, GBU Life has been member-owned and member-driven. As a not-for-profit company, we emphasize value—and values. Our members can realize their financial protection goals and give back to people and causes that matter most to them.
AM Best recognizes GBU Life's fiscal responsibility and growth by rating us
A- Excellent, since 2017
As of 6/15/22, AM Best Company updated GBU Financial Life's A- rating, which we have maintained since 2017. Third-party ratings are subject to change. A- (Excellent) rating is 3rd best out of 17 possible rating categories. For the latest Best's Credit Rating, access www.ambest.com.