Secure Life
Whole Life Insurance Series
A smart insurance solution for your whole life
Whole Life policies provide a death benefit for your lifetime while also building cash value and earning dividends. Coverage ranges from $5,000 to $5 million.
Secure Basic Whole Life: Paying fixed premiums to age 100 makes this the most budget-friendly way to own whole life insurance. Or, opt to pay fixed premiums to age 65, during your working years, for a lifetime of coverage.

Secure 10-Pay or 20-Pay Life: Pay the premiums over a 10- or 20-year period, maximizing cash value growth and locking in long-term benefits.

Secure High Cash Value Life: Accelerates cash value and dividend accumulation for retirement, education or other significant events.

Secure Single Premium Whole Life: Pay the policy's entire premium upfront. This plan may be a good fit for charitable giving or special needs planning.
Expand your benefits
Choose from a range of optional riders
Guaranteed Purchase Options
The ability to buy additional coverage – without going through the typical underwriting process – can be valuable as you age or experience changes in your health.
Paid-up Additional Death Benefit Options
By paying additional premiums, you can increase your coverage as well as the policy's cash value. Converting policy dividends into additional coverage also increases your protection and builds more cash value.
Waiver of Premium
If you become disabled, your premium payments are waived and your policy remains in force for as long as you are disabled.
Accidental Death Benefit Rider
If your death is the result of an accident, your beneficiaries will receive an additional benefit.
Terminal, Critical and Chronic Illness Riders
Known as living benefits, these riders allow you to tap into a portion of your death benefit to help cover the costs of treatment or care.
Spouse and Child Coverage Riders
Adding coverage for family members as part of your Whole Life policy can be a convenient way to further protect your family.
Payment of dividends is not guaranteed as the assumptions on which they are based are subject to change. Loans and withdrawals taken against a permanent life insurance policy will reduce the death benefit and may result in a taxable situation. Coverage for disability, accident and/or illness is defined in the policy. Whole Life Application ICC20-ALC, FL20-LLA.2
Gifts for children and grandchildren
Purchasing a Whole Life insurance policy for your child or grandchild is a forward-looking gift that guarantees insurability and savings. Youth 3 Pay life insurance is designed especially for children up to age 17.
Premiums are paid in three annual installments. Along with life insurance protection from $5,000 up to $50,000, the Youth 3-Pay policy accumulates cash value that can be borrowed against or used for education, to buy a home or for emergencies.
We help deliver stability in an uncertain world
Throughout our 125+ year history of navigating challenging events and volatile markets, GBU Life has fulfilled countless commitments from financial protection for young families through security for retirees, and every dream in between.
With a culture rooted in deliberate risk management, we strive to deliver competitive rates and share favorable results with our members.
Member policies are backed by GBU Life's consistently growing asset portfolio of $3.8 billion.

Our record $260 million surplus, the amount we hold over and above our member benefit reserves, helps to provide even more security.

Standing behind every $100 of GBU Life policy obligations is $108 in assets. This solvency ratio of 108 percent means GBU Life can more than meet our commitments.
Asset portfolio, surplus and solvency ratio information is as of 12/31/21.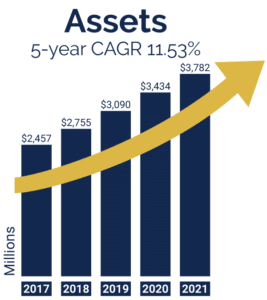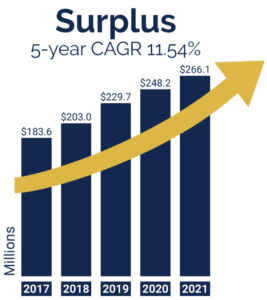 CAGR is Compound Annual Growth Rate of surplus or assets, as applicable, and was calculated for the period 12/31/17 through 12/31/21. Assets and surplus for each year is as of 12/31/21.
Insurance that makes a difference
At GBU Life, we specialize in life insurance and annuity products to protect families and anchor retirements. And, we do things differently than most insurance providers.
We don't have shareholders. We don't have clients. Instead, we have members – members who come to GBU Life to secure their futures, build their legacies and impact the communities around them.
As a member-driven company, we don't charge service or administrative fees. And we don't have teaser rates that change in the future. Just solid solutions designed by insurance and investment professionals and supported by dedicated service representatives.
A.M. Best recognizes GBU Life's fiscal responsibility and growth by rating us
A-Excellent, since 2017
Third-party ratings are subject to change.