As a GBU Life policyholder, you become an owner and a member of GBU Life
A member-owned, not-for-profit provider of life insurance and annuity products since 1892
Based in Pittsburgh, Pennsylvania, GBU Life is a member-owned, fraternal benefit society founded by German immigrants to help them secure their futures, build their legacies and impact their community. Today our members come from all different backgrounds but share the same goals – financial protection and giving back to people and causes that matter most to them.
We help deliver stability in an uncertain world
As a member-owned company, we keep our operating costs low. That translates into competitively priced life insurance, generous annuity rates and stable investment returns members can count on. Day-to-day and long-term, our focus remains squarely on maintaining the exceptional financial health that inspires trust and confidence among our members.
Managing smart
With a culture rooted in deliberate risk management, we strive to deliver competitive rates and share favorable results with our members.
Member policies are backed by GBU Life's consistently growing asset portfolio of $4 billion.
Our record $288 million surplus, the amount we hold over and above our member benefit reserves, helps to provide even more security.
Standing behind every $100 of GBU Life policy obligations is $107.40 in assets. This solvency ratio of 107.4% percent means GBU Life can more than meet our commitments.
Asset portfolio, surplus and solvency ratio information is as of 12/31/21.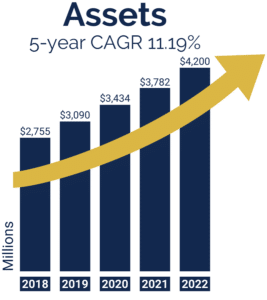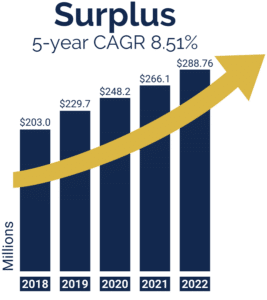 CAGR is Compound Annual Growth Rate of surplus or assets, as applicable, and was calculated for the period 12/31/18 through 12/31/22. Assets and surplus for each year is as of 12/31/22.
Delivering service that stands out
We never forget that we answer to our members and our growth is fueled by member loyalty.
Nine in ten members say they would recommend GBU Life to family, friends and colleagues.
We believe satisfied employees create a superior service experience and it's our members who benefit. We take great pride in being recognized as one of Pittsburgh's best places to work.
97% of GBU Life's employees report they give their best effort every day.
87% of members say our service is very or extremely responsive.
GBU Life employee and member surveys were conducted in 1/2020.
Meeting high industry standards
Our increasing membership base and favorable operating performance are acknowledged by the industry.
A.M. Best recognizes GBU Life's fiscal responsibility and growth by assigning us one of the highest insurance company ratings.

A.M. Best Company has rated GBU Financial Life A- since 2017. Third-party ratings are subject to change.
Giving back is who we are
Giving back is at the heart of GBU Life. It starts with our longstanding commitment to charitable causes and employee volunteerism. But we don't stop there. We also empower members to make a difference in their communities.