Immediate Annuities
Income that starts now and lasts as long as you need it
As retirement nears, financial challenges like rising healthcare costs, inflation and market volatility need to be managed.
Our Flex Guard Single Premium Immediate Annuities (SPIA) convert a portion of your retirement savings into steady, reliable income for a specified period or your lifetime. We offer a range of flexible payout options.
Lifetime: Provides income for the member's lifetime. This option provides the highest payment amount.

Lifetime with Refund: If the member dies before receiving all principal, the balance is paid to the designated beneficiary. This refund can be paid in a lump sum or installments.

Joint & Survivor: Provides income based on the life expectancy of two individuals and ends at the death of the second individual. This can be done for a Period Certain or lifetime basis.

Customizable Period Certain: Provides income for a term of 5 to 25 years. If the member dies before the term ends, the joint owner, if any, otherwise the designated beneficiary receives the remaining payments or a lump sum.

Customizable Period Certain & Life: Provides income for life with the joint owner, if any, otherwise the designated beneficiary receiving the remaining payments or a lump sum if the member dies before the selected term ends.
Interest rates are determined by date of receipt of deposit. Rates are subject to change without notice. Benefits may be taxable. During the surrender charge period, withdrawals exceeding 10% will be subject to a surrender charge that may be higher than fees associated with other types of financial products and may reduce principal. See the surrender charge schedule and contract for specific details. Annuities are not short-term products. Withdrawals prior to 59½ may be subject to IRS penalties, separate from the annuity's schedule of surrender charges. The maximum issue age is 95. The free look period is 10 days or 30 days for replacements unless noted herein. Withdrawals for amounts over those allowed during the guaranteed period are subject to surrender charges defined in the contract. The payout amount you will receive is based on your individual circumstances, the options you select at the time of application and your initial premium payment. NOT A DEPOSIT OF A BANK AND MAY LOSE VALUE-NOT BANK GUARANTEED. Contract Form Series: ICC22-SPIA_CON_(01-22), SPIA_CON_(01-22)_FL.
We help deliver stability in an uncertain world
Throughout our 131-year history of navigating challenging events and volatile markets, GBU Life has fulfilled countless commitments from added financial protection for young families through increased security for retirees, and every dream in between.
With a culture rooted in deliberate risk management, we strive to deliver competitive rates and share favorable results with our members.
Member policies are backed by GBU Life's consistently growing asset portfolio of $4 billion.

Our record $288 million surplus, the amount we hold over and above our member benefit reserves, helps to provide even more security.

Standing behind every $100 of GBU Life policy obligations is $107.40 in assets. This solvency ratio of 107.4% percent means GBU Life can more than meet our commitments.
Asset portfolio, surplus and solvency ratio information is as of 12/31/22.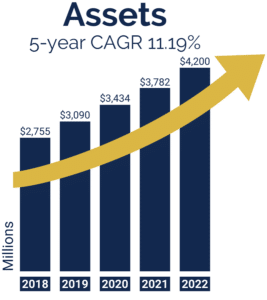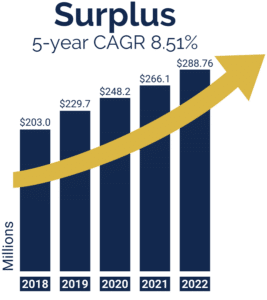 CAGR is Compound Annual Growth Rate of surplus or assets, as applicable, and was calculated for the period 12/31/18 through 12/31/22. Assets and surplus for each year is as of 12/31/22.
Insurance that makes a difference
At GBU Life, we specialize in life insurance and annuity products to help protect families and anchor retirements.
We do things differently at GBU as we don't have shareholders. We don't have clients. Instead, we have members—members who come to GBU Life to add security to their futures, build their legacies and impact the communities around them.
From the start, GBU Life has been member-owned and member-driven. As a not-for-profit company, we emphasize value—and values. Our members can realize their financial protection goals and give back to people and causes that matter most to them.
AM Best recognizes GBU Life's fiscal responsibility and growth by rating us
A- Excellent, since 2017
As of 6/15/22, AM Best Company updated GBU Financial Life's A- rating, which we have maintained since 2017. Third-party ratings are subject to change. A- (Excellent) rating is 3rd best out of 17 possible rating categories. For the latest Best's Credit Rating, access www.ambest.com.