Immediate Annuities
Income that starts now
As retirement nears, financial challenges like rising healthcare costs, inflation and market volatility need to be managed.
Our immediate annuities convert a portion of your retirement savings into steady, reliable income for a specified period or your lifetime. We offer a range of flexible payout options.
Lifetime: Provides income for the member's lifetime. This option provides the highest payment amount.

Lifetime with Refund: If the member dies before receiving all principal, the balance is paid to the designated beneficiary.

Joint & Survivor: Provides income based on the life expectancy of two individuals and ends at the death of the second individual.

Period Certain: Provides income for a term of 5 to 25 years. If the member dies before the term ends, the designated beneficiary receives the remaining payments or a lump sum.

Period Certain & Life: Provides income for life with the designated beneficiary receiving the remaining payments or a lump sum if the member dies before the selected term ends.
Annuities Application ANA 01/13
We help deliver stability in an uncertain world
Throughout our 125+ year history of navigating challenging events and volatile markets, GBU Life has fulfilled countless commitments from financial protection for young families through security for retirees, and every dream in between.
With a culture rooted in deliberate risk management, we strive to deliver competitive rates and share favorable results with our members.
Member policies are backed by GBU Life's consistently growing asset portfolio of $3.8 billion.

Our record $260 million surplus, the amount we hold over and above our member benefit reserves, helps to provide even more security.

Standing behind every $100 of GBU Life policy obligations is $108 in assets. This solvency ratio of 108 percent means GBU Life can more than meet our commitments.
Asset portfolio, surplus and solvency ratio information is as of 12/31/21.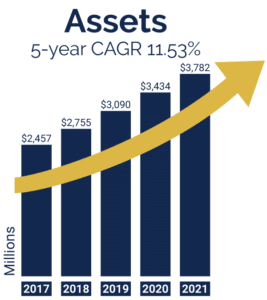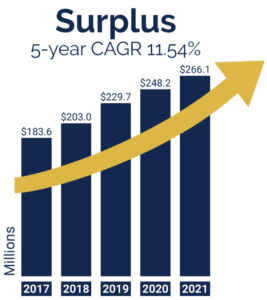 CAGR is Compound Annual Growth Rate of surplus or assets, as applicable, and was calculated for the period 12/31/17 through 12/31/21. Assets and surplus for each year is as of 12/31/21.
Insurance that makes a difference
At GBU Life, we specialize in life insurance and annuity products to protect families and anchor retirements. And, we do things differently than most insurance providers.
We don't have shareholders. We don't have clients. Instead, we have members – members who come to GBU Life to secure their futures, build their legacies and impact the communities around them.
As a member-driven company, we don't charge service or administrative fees. And we don't have teaser rates that change in the future. Just solid solutions designed by insurance and investment professionals and supported by dedicated service representatives.
A.M. Best recognizes GBU Life's fiscal responsibility and growth by rating us
A-Excellent, since 2017
Third-party ratings are subject to change.