The daily performance of the stock market is affected by many factors that can cause dramatic highs and lows.
When investing in the stock market,  it can be very exciting to watch your money dramatically increase, but very stressful to watch it quickly be cut in half. If you are looking for a way to grow your money without the dramatic highs and lows of the stock market, consider purchasing a fixed annuity.
This graph shows the growth in value of a $100,000 investment in the stock market (blue) and a $100,000 deposit in a GBU Preferred 8 Annuity (red) starting on 12/31/17 through 4/24/20.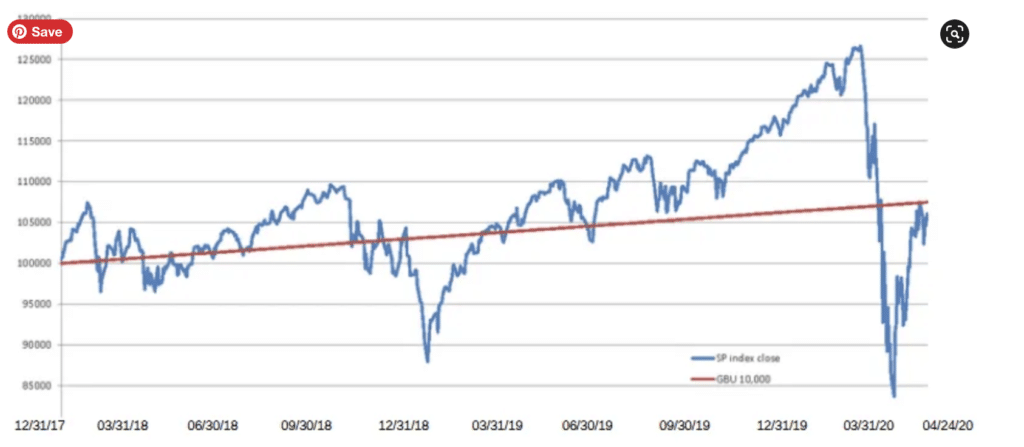 You can lose sleep worrying about volatile stock moves with the S&P 500, or you can enjoy the steady growth of a GBU Preferred 8 Annuity, a reliable income generator. It's your money, you choose.
If you are interested in learning more about the GBU Preferred 8 Annuity, call us at 800-765-4428  or email sales@gbu.org to find an agent near you!
Details
    The GBU return for this period was 7.506%. Crediting rate detail: 01/01/18-3.25%; 03/01/18-3.65%; 01/01/19 (GBU member renewal rate)-4.00%; 08/15/19-3.65%.
    The S&P 500 return for this period (with no dividend reinvestment) was 6.101% per Bloomberg.
    Daily return assumption of investing $100,000 in S&P 500 index at closing price on 12/31/2017.
    Daily return assumption of depositing $100,000 in GBU Preferred 8 Annuity on 12/31/2017.
    Past results are not an indication of future performance.
    The GBU Preferred 8 Annuity has a minimum initial deposit of $10,000. Guaranteed minimum rate is 2.00%.
    Preferred 8 Annuity crediting rates as of 3/1/20: 1st-Year Guaranteed 3.25%. Years 2-8 3.65%. Year 9 and after 3.00%.
    Sources: Bloomberg and GBU Financial Life.