Teaching children the power of helping and giving can help them feel empowered.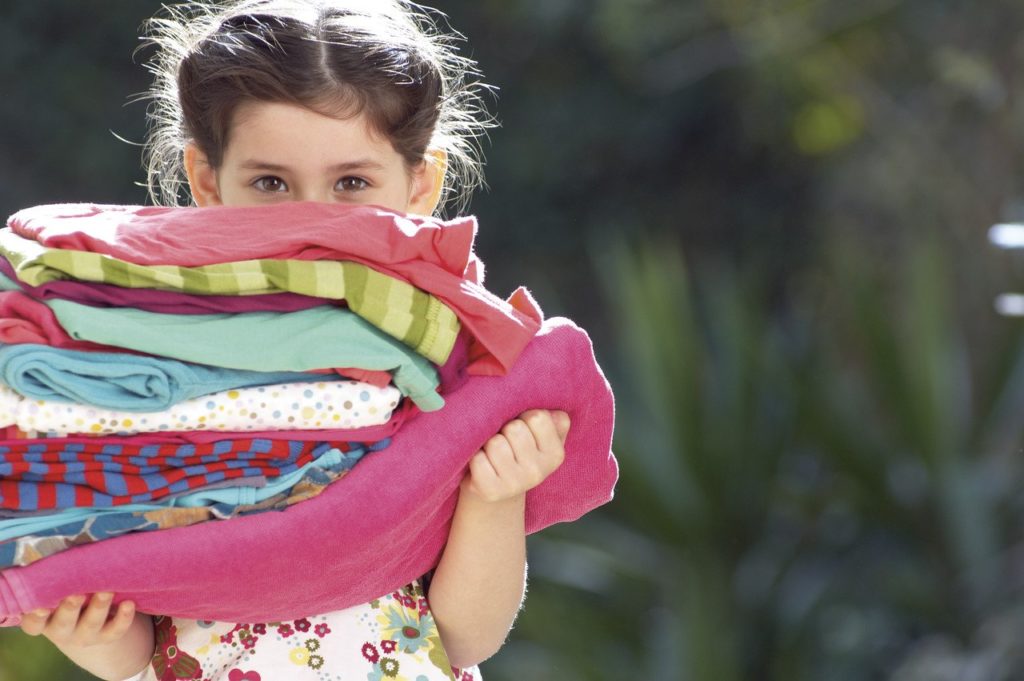 With schools closed around the country, millions of parents find themselves juggling full-time jobs with full-time parenting and… it's not easy!
A great way to engage children in hours of worthy focused-time is to teach them about the spirit of giving and charity.
Why? Social science teaches us that giving to others and doing kind deeds increases social contact, self-esteem, self-worth, and character development in children. Giving and volunteering have also been proven to help counteract the effects of stress, anger, and anxiety. And, numerous scientific studies show that preforming acts of kindness result in significant health benefits, both physical and mental, for those who perform them. It's even been shown to strengthen the immune system. Engaging children in positive activities also helps them to feel in control during a confusing and disorienting time.
So, with all these positive benefits in mind, a great way to use this time is to empower the children you love to embrace their ability to make a difference and help others.
Ellen Sabin, author of The Giving Book: Open the Door to a Lifetime of Giving, and an award winning series of children's books from Watering Can Press that 'grow kids with character', shares some tips on teaching kids to give back.
1. Use Current Events:  It's very difficult to shield children from events covered by the media that have a negative impact on people and places in the world.  No doubt your child knows about the coronavirus pandemic. You can use sad stories to make a positive impact by helping children understand the impact that caring individuals and organizations can make when challenges hit.
2. Let Them Decide:  Kids love to feel like they are in charge.  Since giving and charity are such personal endeavors, it's the perfect time to let the child call the shots.  Let children look around their own home, family, and community and think of ways they can help others. You can also have a great family conversation as you help them think about people they could support during this time.
3. Start Small:  To a child, ending world hunger or finding a cure for a disease may seem abstract and beyond their impact.  Start with causes closer to home. Here are some to get you thinking: –  An elderly neighbor who needs help walking their dog; – Children or the elderly in an area hospital or nursing home who could use an uplifting card or artwork for their walls;
– A family member who could use cheering-up while self-isolating, so a daily call or video-chat would help them feel less lonely.
Other ideas: – Create custom made (art project) 'thank you' notes to send to healthcare workers and other front-line workers. – Encourage each child to think of some of their skills and talents, like reading, playing an instrument, etc.., and have them spend time 'sharing and giving' by teaching it to a sibling.
When kids feel the direct impact of their actions, it reinforces their ability to make a difference in the world around them.
4. Be a Good Role Model:  Children are watching.  If you're encouraging them to help others and make positive contributions to the community, then you need to let them see you doing the same.  Spend time talking with children about your philanthropic work and explain why these activities are so important to you.
5. Make it Fun:  Hands on experiences are always more fun and effective than conversation alone.  Look for opportunities that will bring giving to life for a child.
During this time, some ideas may include: – A family-walk, with trash bags in hand, to clean up litter. (Of course, with social distancing in mind.)  – A scavenger hunt where your children (and you, if you have time) collect all the clothes and toys that you've outgrown. Clean then, box them, and get them ready to contribute (when it's time) to the Salvation Army, Goodwill, the Red Cross, or another place that will send them to people who need them.
When self-isolation is behind us, you can throw a Giving Party! Check out the free "Parties with Purpose" guide that helps parents plan fun, themed parties that engage kids in giving and charity.
We hope you enjoy helping a child embrace the power their actions have to help others and improve the world around them.
Please feel free to utilize our free teachers' guides, with lesson plans aligned with our books, to support parents in homeschooling.